skip
ACCESS THE LATEST NEWS AND EXCLUSIVE FEATURES
Already registered? LOGIN.
Features
Cellulose adapts to new roles
Date: 2017-03-30 17:53:47.0
Author: Jon Evans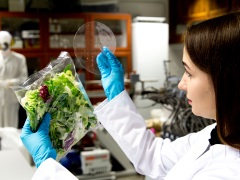 Cellulose packaging for keeping food
fresh, developed by researchers at KTU.


Cellulose has already shown itself to be a highly adaptable material, able to produce everything from textiles to super-strong paper to elastic foam. But it turns out that a little bit of modification could help cellulose adapt to a whole range of new roles.
One of the main reasons why cellulose is so adaptable is because it is made up of microfibrils, each around 5–10nm wide. These possess impressive strength and toughness, and can be processed in a variety of different ways to produce many different materials. For example, they can be spun into strong yarn for clothing (see Wood: looking good and sounding good) or freeze-dried into an elastic foam that makes an effective battery material.
Until recently, a major hurdle was actually deriving good quality, undamaged microfibrils from plant-based material such as wood, but several methods are now available. They are usually based on a combination of treatment with enzymes to release the cellulose from the plant-based material and gentle agitation to break apart the individual microfibrils, which are held together by hydrogen bonds. These hydrogen bonds will readily reform on cessation of the agitation, and scientists take advantage of this when processing the microfibrils into the various different materials.
As well as allowing cellulose microfibrils to join with each other, these hydrogen bonds also allow them to combine with various other materials, and scientists are now taking advantage of this to produce cellulose materials with a whole range of new properties. For example, scientists at KTH Royal Institute of Technology in Stockholm, Sweden, are combining cellulose microfibrils with a positively-charged polymer to produce a water-purification filter.
The idea is simply to pour dirty water through the filter. The cellulose microfibrils will block the passage of dirt and other particles, while the positively-charged polymer will trap any bacteria and viruses in the water, as their outer surfaces tend to be negatively-charged.
"Our aim is that we can provide the filter for a portable system that doesn't need electricity – just gravity – to run raw water through it," says Anna Ottenhall, a PhD student at KTH's School of Chemical Science and Engineering. The material could also be used to produce microbe-capturing bandages, plasters and packaging.
Scientists at Kaunas University of Technology (KTU) in Lithuania are also producing antimicrobial packaging from cellulose, in this case for keeping food fresh. Their approach involves combining cellulose microfibrils with both ionic silver particles and essential oil from cloves, in order to prevent food being colonized by bacteria and mold and to halt the chemical processes that can also spoil food.
Silver particles have well-known antimicrobial properties, which studies have indicated are due to the release of silver ions that disrupt multiple microbial processes. As an added benefit, the silver particles also made the packaging stronger and more flexible. Clove essential oil, meanwhile, helps to combat the chemical processes responsible for spoilage.
"Active components of clove ethereal oil are very effective in tying-up free radicals; this oil proved efficient in enriching packaging with anti-oxidizing qualities," explains Vesta Navikaitė-Snipaitienė, a chemical engineering PhD student at KTU. "This effect helps to keep food fresh for longer."
Rather than develop new cellulose materials, other researchers are finding new uses for existing materials. One of the oldest of these is cellulose acetate, which was first made in 1865 by reacting cellulose with acetic anhydride and is still used for producing photographic film, among other applications. Now, as reported in Advanced Materials Technologies, scientists at Massachusetts Institute of Technology (MIT) in the US have shown that it also makes a good material for 3D printing.
Instead of melting the cellulose acetate, as happens with other polymers used for 3D printing, the MIT scientists liquify it by simply dissolving it in acetone. After printing, the acetone quickly evaporates away to leave solid cellulose acetate, which can be hardened further by treating it with sodium hydroxide. Keeping with the modification theme, the process works with modified cellulose acetate as well, which the scientists demonstrated by adding an antimicrobial dye to the cellulose acetate ink and then printing a pair of surgical tweezers.
---
The views represented here are solely those of the author and do not necessarily represent those of John Wiley and Sons, Ltd. or of the SCI.
---
Displaying
82
keywords used to tag this article:
Bruk av informasjonskapsler : Profe

Copy Rolex Air-King Fasion Oyster P

Pandora Anhänger

New Balance 999 :

Mont Blanc Ball Point Pen 111 [e7fe

Omega Seamaster Replica Watch Plane

Replica Watches Breguet Marine 5827

Replica Rolex Datejust II Watch - R

Billiga Nike Utförsäljning Shop O

Replica Cool IWC Big Pilot Automati

Cartier tillbehör

Copy Watches Rolex New Watch Oyster

Tiffany Jewelry Necklaces Fine Blue

Prada Топ Ручки : Spyder к

Moncler Chalecos para mujer Precio

timberland uk

Purchase Your Favorite Replica Hubl

Christian Louboutin lenkkarit

Moncler Outlet | Moncler On Sale

Chopard Migliore Copia Watches Repl

IWC Fliegeruhr : Sveitsin Designer

Omega De Ville Ladymatic 425.65.34.

Nike Basketball Shoes - sapatos nik

Replica Omega Seamaster Planet Ocea

Montblanc Meisterstuck : Profession

Männer Timberland Boots Boots Outl

Womens Timberland Boots Roll Top [t

Moncler Online - Rabatt Moncler Jac

Christian Louboutin | Discount sapa

Replica Rolex Pearlmaster 29 Oyster

Black Christian Louboutin Brigette

rolex replica swiss Explorer Watch

omega watches outlet

Fake Great Omega Seamaster Planet O

Kjøp Din Fasjonable Fake Omega Klo

Relojes OMEGA: Seamaster Aqua Terra

Copy Watches Rolex Submariner Watch

Copy Watches Bell&ross Watch Asia E

Emporio Armani Watches : Replica Wa

Top qualità swiss replica orologi

Hot Sell Wedding Dresses

Moncler UK Classic Down Vest Sleeve

Rolex Daytona Replica Watch Movemen

Moncler жилет женщины :

Moncler Liquidazione : Moncler Outl

Chopard Klokker : Klokker Factory O

Siopa One Piece Swimsuits ag Praghs

Cosmograph Daytona

Charms Pandora Pensionati

Fake Omega Watches Constellation se

Belstaff Small Men Bag Mountain Bro

Replica Breguet CLASSIQUE Series 33

Meisterstuck : Professional montbla

Tiffany Armbånd _ 2014 Billig Tiff

Moncler 2014 : Moncler Utförsäljn

Pandora Charms

Rolex Daytona Watches Replica 4848

Christian Louboutin Bianca 140mm Co

Goedkope Beats Studio Diamond | Bea

Replica Rolex Yacht-Master II Oyste

Montblanc Platinum Meisterstuck Fou

Replica IWC ure

Replica Rolex Cosmograph Daytona 11

Hovedgade

Moncler Classic Women Down Jacket S

Replica Rolex Datejust Watch Two To

Mont Blanc Marlene Dietrich Special

Tiffany & Co.1837 circle clasp Brac

Hublot

Jaeger - LeCoultre

Tiffany Bracelets : Tiffany Outlet

Patek Philippe Replilca Часы

Mont Blanc Starwalker Red Gold Resi

Tiffany Accessories 2014

Mænds Asics Onitsuka Tiger : asics

Replica Vintage Chopard AAA Watches

Sconto penne Montblanc negozio on-l

Replica Rado Watches

Montblanc Boheme Mechanicalcils : D

relojes Omega

Replica Ulysse Nardin-Australia Bes

Rolex : Professionell replika klock
---