skip
ACCESS THE LATEST NEWS AND EXCLUSIVE FEATURES
Already registered? LOGIN.
Editorial Board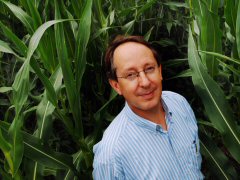 Welcome!
Professor Bruce E. Dale leads a global Editorial Board, comprising 7 Consultant Editors and 36 Advisory Editors.
The Editorial Board covers all topics related to Biofuels, Bioproducts & Biorefining, from feedstock design through to processing and sustainability of end products, and includes active researchers and key thinkers from across the globe in academia, industry and government. The diversity of the Editorial Board is vital to the interdisciplinary nature of the Journal, which represents the breadth of the field itself.

Editorial Board

Editor-in-Chief
Professor Bruce E. Dale
Department of Chemical Engineering & Materials Science
Michigan State University, USA

Consultant Editors
Professor Göran Berndes
Department of Physical Resource Theory
Chalmers University of Technology, Sweden
Professor David Bransby
Department of Agronomy and Soils
Auburn University College of Agriculture, USA
Professor Luis Cortez
State University of Campinas UNICAMP, Brazil
Professor Peter Lillford
National Non-Food Crops Centre, UK
Professor Lisbeth Olsson
Center for Microbial Biotechnology
Biocentrum-DTU, Denmark
Professor Arthur J. Ragauskas
Department of Chemistry & Biochemistry
Georgia Institute of Technology, USA
Professor Christian V. Stevens
Department of Organic Chemistry
Ghent University, Belgium

Advisory Editorial Board
Professor Melvyn F. Askew
Fellow of the Central Science Laboratory and Founder of Census-Bio, UK
Professor Jie Bao
State Key Laboratory of Bioreactor Engineering
East China University of Science and Technology, China
Dr Ausilio Bauen
Centre for Environmental Policy
Imperial College London, UK
Dr Dario Bonetta
University of Ontario Institute of Technology, Canada
Dr Douglas Cameron
Chief Scientific Officer
Khosla Ventures, USA
Professor Kenneth G. Cassman
Nebraska Center for Energy Sciences Research
University of Nebraska-Lincoln, USA
Professor Yusuf Chisti
School of Engineering, PN 456
Massey University, New Zealand
Professor Zhen Fang
Chinese Academy of Sciences
Kunming, China
José Goldemberg
Institute of Electrotechnics and Energy
University of São Paulo, Brazil
Professor Herman Höfte
Laboratory of Cellular Biology
Institut Jean-Pierre Bourgin, INRA, France
Professor Birgit Kamm
Brandenburg Technical University and BIOPOS Research Institute, Germany
Dr Angela Karp
Plant and Invertebrate Ecology Division
Rothamsted Research, UK
Professor Michael Ladisch
Laboratory of Renewable Resources Engineering
Purdue University, USA
Dr Jean-Paul Lange
Shell Global Solutions, The Netherlands
Professor Lene Lange
University of Copenhagen, Denmark
Dr Mark Laser
Thayer School of Engineering
Dartmouth College, USA
Dr Warren E. Mabee
Forest Products Biotechnology
University of British Columbia, Canada
Dr Luiz H.C. Mattoso
Embrapa Agricultural Instrumentation Center, Brazil
Professor Martin Mittelbach
Karl-Franzens-University Graz, Austria

Dr Andrea Monti
University of Bologna, Italy
Dr William D. Provine
DuPont Biofuels, USA

Dr. Badal C. Saha
U.S. Department of Agriculture, USA
Professor Johan Sanders
Chair of Valorisation of Plant Production Chains
Wageningen University, The Netherlands
Dr Gautam Sarath
Grain, Forage and Bioenergy Research Unit
USDA Agricultural Research Service, USA
Professor Roger Sheldon
Laboratory for Biocatalysis and Organic Chemistry
Delft University of Technology, The Netherlands

Dr. Sharon P. Shoemaker
University of California, Davis, USA
Dr Poonam Singh nee' Nigam
School of Biomedical Sciences
University of Ulster, UK
Professor Wim Soetaert
Laboratory for Industrial Microbiology and Biocatalysis
Ghent University, Belgium
Professor Mariam Sticklen
Department of Crop & Soil Sciences
Michigan State University, USA
Dr Carlos Vaca-Garcia
Laboratory of Agro-Industrial Chemistry
ENSIACET, Toulouse, France
Dr Timothy A. Volk
College of Environmental Science and Forestry
State University of New York, USA
Professor Charles Wyman
Center for Environmental Research and Technology
University of California Riverside, USA
Dr Bin Yang
University of California Riverside, USA
Professor Qing Yang
Dalian University of Technology, China
Professor Ying- Jin Yuan
School of Chemical Engineering & Technology
Tianjin University, China
Professor Hideaki Yukawa
Microbiology Research Group
Research Institute of Innovative Technology for the Earth (RITE), Japan